With Video.Taxi you can show texts and graphics in your videos. These objects can be linked and are clickable for your viewers. With this, you get a powerful tool to animate your viewers to inform themselves further and e.g. buy something.
First, select the video you want to edit in your MEDIA.
Then select and open the clip and go to the ANNOTATIONS tab (below the video).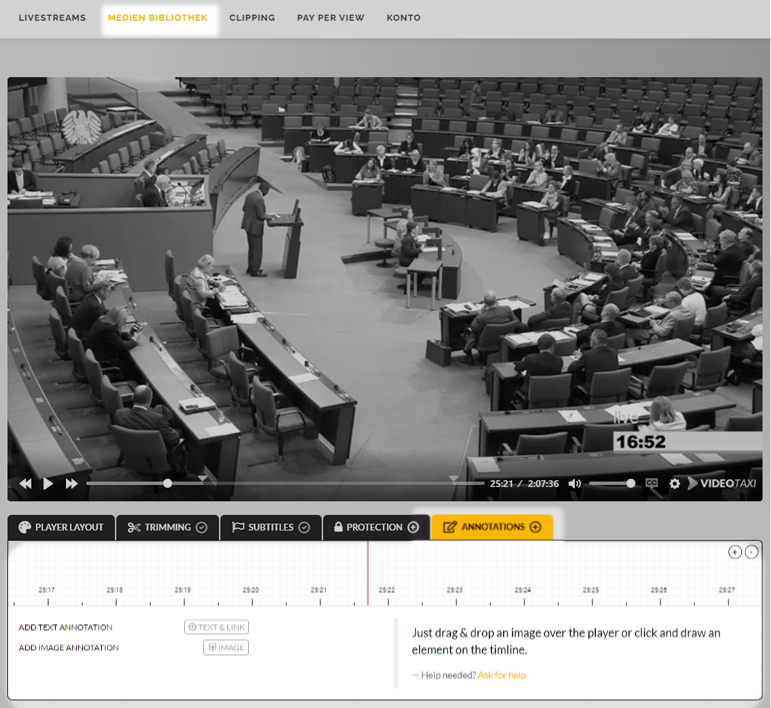 Now go to the spot where the text or image should appear.
Pause the video and select the red line on the timeline (below the video) so that the starting point for your text (or image) is marked.
(Tip: If you are using a laptop with a trackpad, use both fingers to move back and forth on the timeline).
(Tip: If the timeline is moving too fast, increase the grain by clicking on the circled plus in the upper right corner of the timeline).
Now click on ADD TEXT ANNOTATION or ADD IMAGE ANNOTATION.
A window appears on the video where you can adjust various settings.
When you are finished, click on SAVE to save the result.
Done!