The player is the digital presentation surface for your video content, and as such, it needs to fit you and your content. In the player layout, you can make adjustments to ensure the right fit. You can find this area in MEDIA - VOD Elements under all your videos.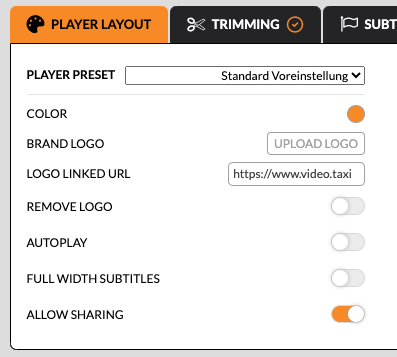 With COLOR you can select the color of the player elements, i.e. buttons, progress bar and volume bar. You can choose from the common color spectrum or use a HEX, RGB or HSL code to select a specific color.
Via BRAND LOGO you can upload a logo of your choice as an image file, which will then be displayed in the upper right corner of the player. Additionally you can use LOGO LINKED URL to place a link on the logo, for example to your website. If you have not uploaded a logo, the Video.Taxi logo will appear by default. If you prefer not to have a logo in your player, activate the REMOVE LOGO button.
If AUTOPLAY is activated, the video will be played automatically after opening the link, without the need to press play. However, the sound is muted due to Browser regulations.
FULL WIDTH SUBTITLES displays subtitles across the entire player width, not just centered in the middle.
ALLOW SHARING allows your viewers to share the video using either the URL or the button at the bottom right of the player.
Even more customization can be done with the URL code, here are some useful examples.